Lieke Ploeger - November 27, 2014 in Events/Workshops, Featured, Hack days, Working Group
On 27-28 February the local Swiss OpenGLAM working group will be organising first Open Cultural Data Hackathon in Switzerland. The event will take place at the Swiss National Library in Bern, and focuses on using cultural heritage data/content online for research purposes in Digital Humanities and related areas, as well as in the context of Wikipedia and Wikimedia. Participants are welcome to re-use the open data/open content provided for other purposes, such as the development of apps or artistic re-mixes.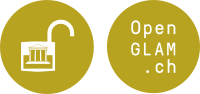 In preparation for the event, the Swiss OpenGLAM Working Group is calling on all Swiss heritage institutions to provide data and content for the upcoming hackathon. The event is an excellent means for heritage institutions to enter into dialogue with software developers, researchers, and Wikipedians, in order to put their data and digitized collections to wider use.
Datasets from Swiss institutions are listed on the event wiki: more information on the event is also available from this event page. A preparatory meeting for data providers will be held in the afternoon of 23 January 2015 at the ETH Library in Zurich.