OpenGLAM workshop at the OKFestival
From 17th till the 22nd of September, the Open Knowledge Foundation will organise the very first Open Knowledge Festival in Helsinki. This will be a full week of participatory sessions, keynote lectures, workshops, hackathons and satellite events. Next to a cultural and scientific hackday, the OpenGLAM initiative organises a full day workshop about open cultural data for Finnish cultural heritage institutions. During this workshop, we will investigate and discuss the various possibilities and obstacles of opening up your cultural data as an institution. Together with various partners like Wikimedia Finland, OpenCultuurData, and Creative Commons Finland we will continue the discussion how to overcome the barriers to opening up data in the cultural heritage sector.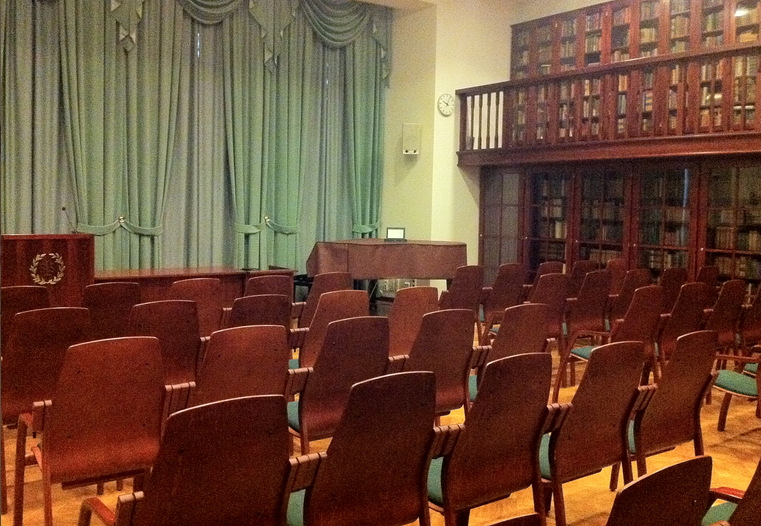 The Society of Swedish Literature in Finland
This workshop aims to enrich and stimulate the discussion on openness within the memory institutions in Finland by supporting the construction of a network with Finnish and foreign memory institutions interested in open content and open access. Meaningful open access is key for promoting open content and legal creative use/re-use of cultural heritage. At the moment there is a need to demonstrate this, by making a showcase of the practical solutions, strategies and the 'best practices' in opening memory institutions and their holdings to a wider public.
We invite around 25 representatives from cultural heritage institutions to join us in the Society of Swedish Literature in Finland during this workshop where we will discuss different aspects, opportunities and issues about open data with a wide variety of experts.
For more information and registrations click here
Program
9:00-9:30 – Coffee & Registration
9:30-9:40 – Welcome by The Society of Swedish Literature
9:40-9:50 – Introduction by Sanna Marttila (Aalto University)
##Presentations
10:00-10:20 – The Open GLAM initiative: an introduction to open data in the cultural heritage space by Joris Pekel & Sam Leon (Open Knowledge Foundation)
10:20-10:40 – "Common Challenges, Common Solutions. Working Together Towards Openness" – Experiences of opening up content in Denmark by Merete Sanderhoff (Statens Museum for Kunst, The National Gallery of Denmark)
10:40-11:00 – Pundit: Re-using cultural heritage data in the scholarly domain (Net7)
11:00-11:10 – Coffee
11:10-11:30 – An introduction to open licensing by Creative Commons
11:30-11:50 – Wikimedia and cultural heritage in Finland by Tommi Kovala & Ulpu Pajari (Wikimedia Finland)
11:50-12:15 – Discussion

12:15-13:00 – Lunch break
##Case Studies
13:00-13:20 – Open Cultural Data Initiative (NL) by Nikki Timmermans (Knowledgeland) and Maarten Brinkerink (Netherlands Institute for Sound and Vision)
13.20-13:40 – "Finna – Opening Access to Cultural Heritage and Scientific Information" by Aki Lassila (The National Library of Finland&The National Digital Library)
13.40-14:00 – "Big Ideas – Small Steps. Towards an Open Archive" by Tove Ørsted (The Society of Swedish Literature in Finland)
##Workshop
14:00-15:00 Break-out sessions where we discuss the various experiences and issues of the participants. Hosted by Sanna Marttila & Mariana Salgado
15:00-15:30 – Wrapping up & ending the workshop
15:30-16:00 – Transport to main venue (Aalto University, Arts)
16:00 – Keynote Michael Edson
To attend this workshop participants will need an OKFestival week or day pass which can be purchased here. If you are planing to attend, please register for the workshop using this form. For additional questions and comments, feel free to send an email to joris.pekel [at] okfn.org