Open Culture Data Awards
Yesterday evening, the winners of the Dutch Open Culture Data competition were announced. 27 applications were created with 35 openly licensed datasets. The challenge of the competition was to advance the cultural field with apps that contribute and improve the public outreach.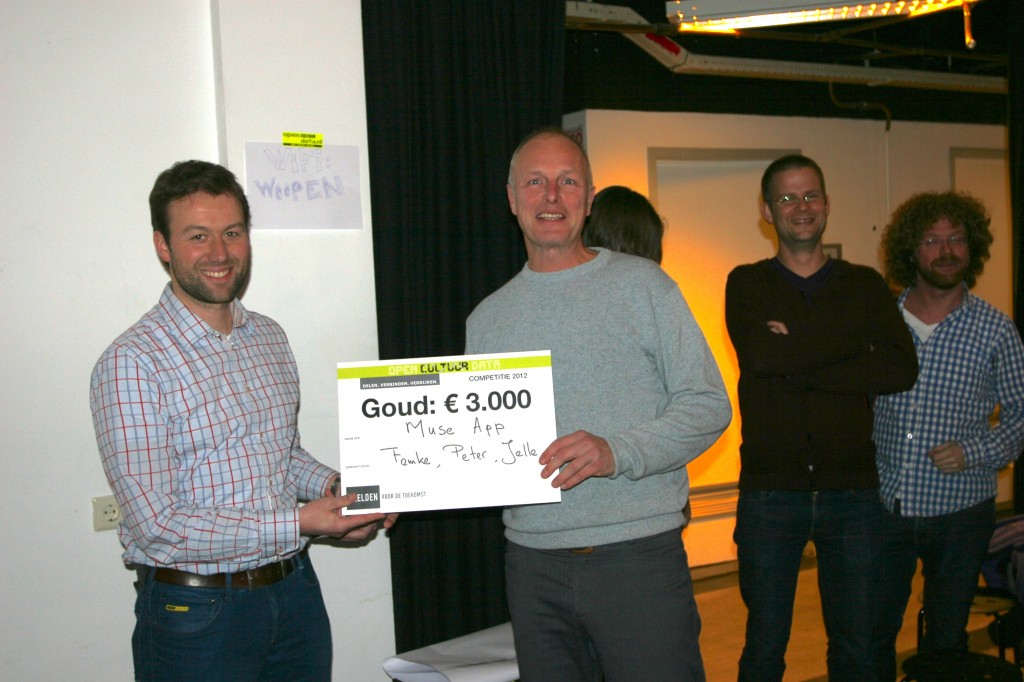 The winners
The first prize was awarded to the Muse app. With this application people can compile and remix their own artwork with fragments from world famous 'Old Masters'. The judges said about the app: "The first succeeded attempt to develop a really creative webtool for museums". The developers of the application announced that they will continue working on this project and add new datasets and functionalities.
The second prize was awarded to Histagram. This application very easily allows the users to create e-cards from old photos from the ANEFO photo archive. Just select a photo, add a text and you are ready to go.
The third prize was awarded to SimMuseum, a game where the user can be a museum director themselves and buy and sell artworks from several Dutch museums.
Finally, a special prize was awarded by the National Archives of the Netherlands to an application that specifically made use of their ANFEO photo collection. Head of the Archives awarded this prize to tijdbalk.nl (timeline.nl) which uses Timeline JS to create nice timelines on different topics.
Open Cultuur Data
The Open Cultuur Data network organised this year for the first time a competition for applications that use open data from GLAM institutions. The idea behind this competition was, besides public outreach, to get Dutch developers in touch with openly licensed collections and the institutions that provide them. At the moment, 35 collections are openly available but this number will grow in 2013.
We congratulate Open Cultuur Data with this great success and are looking forward to more applications being built with open cultural data. All other apps being built can be found here
For more info about the initiative, see this blog by Lotte Baltussen