New Topic Report: Public Sector Information in Cultural Heritage Institutions
This week a new Topic Report has been published on the ePSI Platform about public sector information in cultural heritage institutions. The report discusses the current state of the digital cultural heritage landscape in Europe and looks at what the recently accepted amendments to the PSI Directive mean for the sector.
###What is Public Sector Information?
Public Sector Information (PSI) is the single largest source of information in Europe. It is produced and collected by public bodies and includes legal data, economic/financial data, digital maps, geographic information, meteorological data, digitised books, statistics, and data from research projects.
Most of this Open Data can be re-used or integrated into new products and services that we use on a daily basis, such as car navigation systems, weather forecasts, and financial and insurance services.
###What does this mean for the cultural sector?
The original Directive dates from 2003 and it excluded the information that is produced by libraries, archives and museums. The amended Directive that was accepted one year ago changes this. These cultural heritage institutions will now also be asked to make their information available to the public. This includes both the metadata, the descriptive information, as well as the digitised content. The Directive does however allow institutions to make the data available under certain conditions such as charging marginal costs.
###Implementation of the Directive by the Member States
At the moment the new amended Directive is not fully in place yet. Member States have until July 2015 to implement the new Directive into their national law. How effective the new Directive will be is dependant on how the different Member States decide to implement the Directive. The report researches the current state of implementation of each Member State and the results can be found in this map.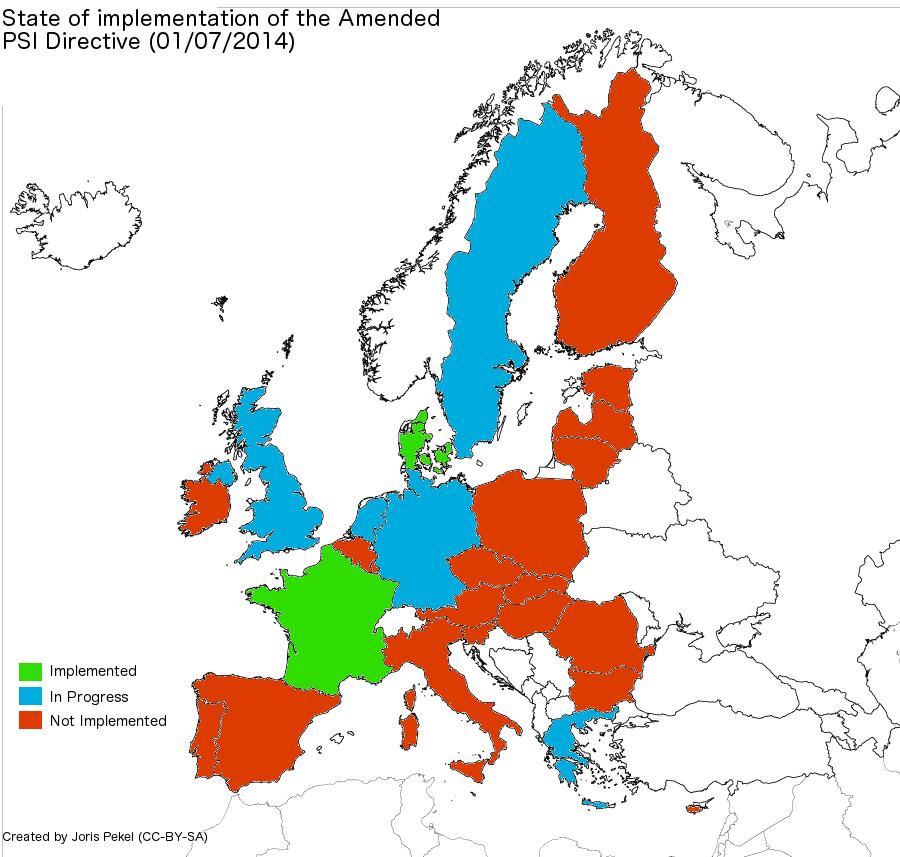 It becomes quite clear that the implementation of the amended Directive is not on track at the moment. One year after the acceptance of the new text, only a few countries are currently working on implementing it. This is a concern especially when realising that some Member States took as long as 7 years to implement the Directive from 2003.
The full report also addresses other topics like maintaining a healthy Public Domain (also addressed next week during a workshop at the OKFestival), the potential of cultural heritage data for other sectors such as education and creative industries, and the more general issues memory institutions run into when digitising their collections. The full report can be found here.