UN recommends open licensing for promoting cultural participation
In a recent United Nations report 'Copyright policy and the right to science and culture', the UN Special Rapporteur in the field of cultural rights, Farida Shaheed, encourages the use of open licenses for the promotion of cultural and scientific participation. The report discusses copyright law and policy in relation to the human right to science and culture and was written following a round of expert meetings and consultations with stakeholders.
In the section on Copyright policy and cultural participation, the Special Rapporteur proposes to expand copyright exceptions and limitations (also on an international scale) and, most importantly for OpenGLAM, stresses the importance of open licensing as an essential copyright tool for expanding cultural participation and building a 'cultural commons' in which everyone can access, share and recombine cultural works. From the conclusion:
The human rights perspective focuses attention on important themes that may be lost when copyright is treated primarily in terms of trade: the social function and human dimension of intellectual property, the public interests at stake, the importance of transparency and public participation in policymaking, the need to design copyright rules to genuinely benefit human authors, the importance of broad diffusion and cultural freedom, the importance of not-for-profit cultural production and innovation, and the special consideration for the impact of copyright law upon marginalised or vulnerable groups.
Some relevant passages around open licensing are marked in the image below (with thanks to @mpedson):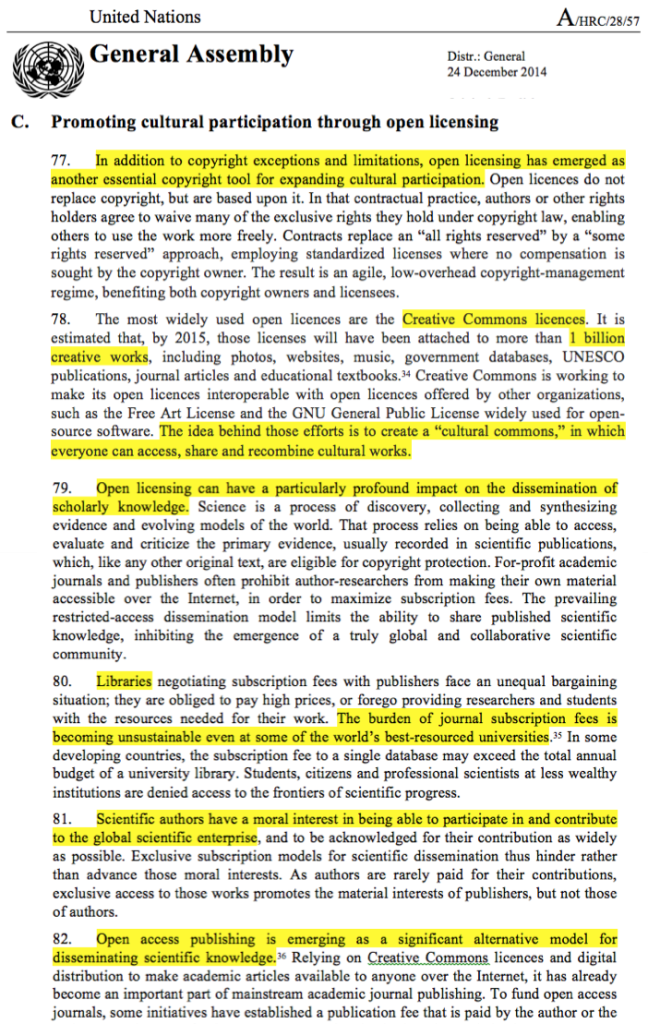 The report was sent to the Human Right Council as input for their session in March 2015: the full version is available here.