Coding da Vinci 2015
More than 325.000 open cultural data files are just the beginning – Coding da Vinci sets goals for 2015 in Germany
Last year, Coding da Vinci (the first open cultural data hackathon in Germany) was an exciting experience for everyone involved: 150 attendees and 16 cultural heritage institutions from all over Germany jointly developed apps, visualizations and games based on open cultural data sets for both the public and the cultural sector itself. Over 325.000 media files have been contributed in total.
 From "zzZwitscherwecker" over "Old Berlin" to "Mnemosyne" – just to name a few examples – great ideas have been implemented and demonstrated the great potential of digital culture heritage.
For us, the hackathon only marked the beginning of a bigger movement towards more freely available and usable open cultural data in Germany. For 2015 we set the goal to contact more institutions and help them open up data in preparation for the hackathon.
 Whereas a classic hackathon offers its participants only a short time frame – typically a weekend – to develop software applications, Coding da Vinci runs for a total of 10 weeks. Since it was the first event of its kind, combining the formerly separate worlds of technology and cultural heritage, the organizers chose this more extensive time frame in order to provide the much-needed space to interact with and learn about each other.
At the beginning of the 10 weeks, a two-day inaugural event takes place in Berlin on the 25th & 26th of April 2015. The purpose is to  offer sufficient time for the institutions to present their data sets, and for the participants to make contact with the GLAMs in order to develop project ideas and to form teams for their realization. The teams then can use the coming 10 weeks to develop prototypes, that are presented and evaluated at a public award ceremony on the 5th of July 2015 (sprint phase).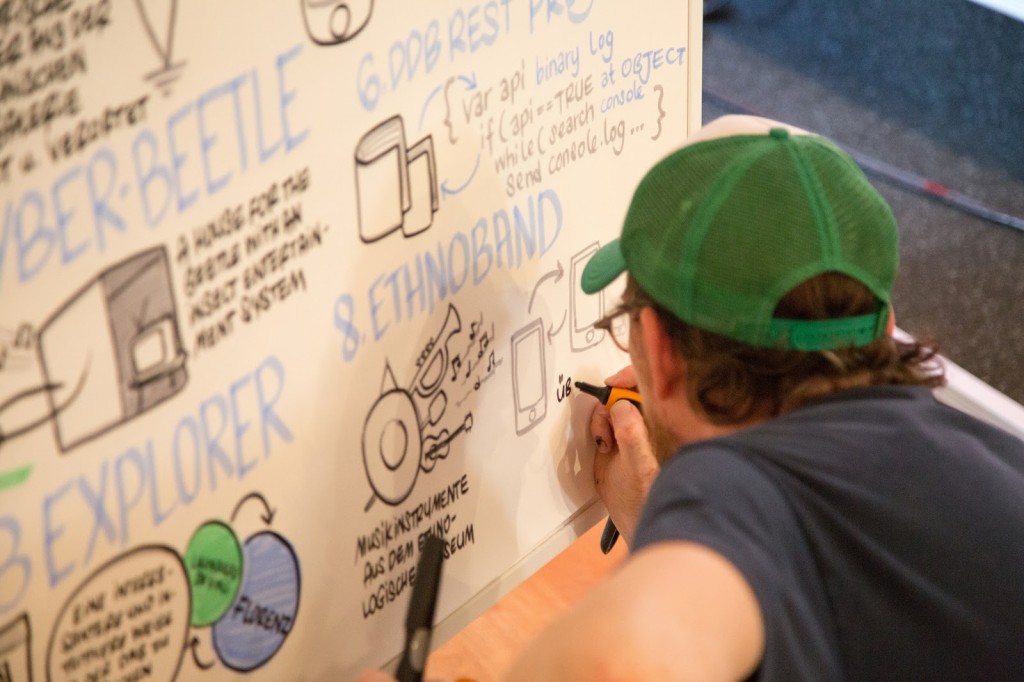 Currently, more than 20 cultural heritage institutions are set to participate in the hackathon as data providers – among them galleries, libraries, archives, museums and even theatres. All institutions and data sets will be announced shortly on our webpage. 
All those who are eager to work with cultural data are invited to join the hackathon in Berlin: http://codingdavinci.de . Please register online and let us know, if you would like to apply for our travel grants.
We are looking forward to your ideas!
Coding da Vinci – Der Kultur-Hackathon is a community project of Deutsche Digitalen Bibliothek (DDB), Open Knowledge Foundation Deutschland e.V. (OKF DE), Servicestelle Digitalisierung Berlin (digiS) and Wikimedia Deutschland e.V. (WMDE).
Contact:
Helene Hahn
Project Lead Coding da Vinci
vicarious for all organizers
Project Lead Open Knowledge Foundation Deutschland e.V.
helene.hahn@okfn.org I +49 30 57703666 2