OpenGLAM at Wikimania 2015 – Benchmark survey update
Last week the annual Wikimedia conference Wikimania took place in Mexico City. Attendees from over 40 countries came together to discuss issues related to the state of free knowledge, the role of Wikipedia in education, privacy and digital rights, using technology to grow participation, and more. From our OpenGLAM working group, Subhashish Panigrahi presented on How to Guerilla GLAM, while Beat Estermann gave an update on the work of the OpenGLAM benchmark survey.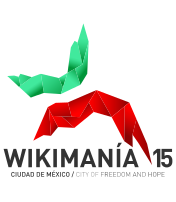 The OpenGLAM Benchmark Survey, is an online survey that is conducted among heritage institutions throughout the world. The purpose of the survey is to measure the state of advancement of OpenGLAM in various countries around the world (for example regarding digitization, inter-organisational cooperation involving the exchange of metadata, open data, crowdsourcing, linked data) and identify the main challenges and obstacles that stand in the way of the promotion of open cultural data and free access to knowledge. As such, it is a useful tool to better understand the particularities of each country, to put insights gained in a country into a broader perspective, and to better adapt strategies and best practices to the specific situation of each country.
At the Wikimania session, Beat Estermann of the Bern University of Applied Sciences showed the results from the first set of countries surveyed, which include Finland, Poland, Switzerland and the Netherlands.
Some of the main findings show encouraging trends for OpenGLAM:
Digitization and social media are widespread practices in the GLAM sector
70% of institutions think that opening up their content helps them to better fulfill their core mission: over the next 5 years we will see leaps in digitization activities and freely licensed content
Copyright clearance is no show-stopper: across all object types, institutions may release at least 50% of their holdings as open content
The study also identified the main challenges and risks in the way of opening up content:
Many GLAM institutions have an aversion against allowing commercial use of open content as well as to letting third parties modify the content
The time effort and expense related to the digitization and the documentation of content are high
Re-use of content without proper attribution, misuse of content and copyright infringements are seen as the biggest risks
Interestingly, loss of revenue is only a minor concern for institutions: the greater worry is around rights clearance issues and the tracking of the use of content.
The OpenGLAM benchmark survey team will continue their efforts to collect data in further countries throughout 2015. Additional country reports will be published later this year, with an international final report in the first half of 2016.
More information about the survey and how to get involved is available on the project's webpage.