LGMA Storytelling Application: Irish Folktales & Poetry
As part of the Europeana Space project, the Libraries Development Team of the Irish Local Government Management Agency (LGMA) is exploring the potential for reusing open digital cultural content for educational purposes. The aim is to develop a storytelling application based on Irish folktales and poems that will allow the creation of versatile teaching material to support the primary curriculum. It will also provide students with the opportunity to experiment with digital cultural content while developing literacy and creative writing skills, as well as imagination.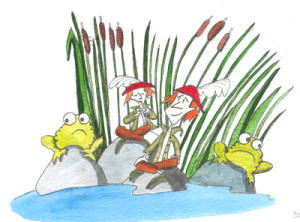 The primary content of the application will consist of widely recognised folktales (The Children of Lir, and The Cattle Raid of Cooley) and poems (The Stolen Child by W.B. Yeats, and The Fairies by William Allingham) of Irish origin. These will be available in a number of formats – text, audio, video, illustration – and may be explored through different story-lines of the application: map, timeline or narrative.
LGMA is a state agency in Ireland providing a range of services in support of coordinated and effective delivery of Local Government services and policy. The Libraries Development team manages the national policy for the digitisation of public library holdings and the national digitisation research and initiatives arising. The team also works with national education bodies to develop content to support the education curriculum in schools, with libraries to develop literacy and numeracy supports and liaises with teacher training colleges to tailor content and content applications to the requirements of the teacher.
The technical development of the application is supported by PostScriptum and will facilitate incorporating related open licensed content from sources such as Europeana, Wikipedia Commons and Flickr Commons. In addition, students will be encouraged to create their own interpretations of Irish folktales and poems and share them through social media.
The development of this story-telling application is a great opportunity not only to promote reuse of Europe's rich cultural content for educational purposes, but also to support the Digital Agenda for Europe for enhancing digital literacy.
The application is due to be launched in early 2016.