Open Marginalis: Medieval Manuscripts in Open Access
This is a guest blog post by Kelly Fitzpatrick on Open Marginalis: a selection of digitized medieval manuscripts accessible under open use terms working to guide new users to open collections for casual and scholarly use (Open Marginalis, About).
Starting work on Open Marginalis, I wanted to solve a discovery problem. Institutions are choosing to make digital collections accessible under open use terms, but finding where to start can be tough for users at all levels, and knowing how to use that content can be even harder.
In action, Open Marginalis grew to function as selection of open collection highlights sourced from online resources within the scope of digitized medieval manuscripts. In this framework, the primary goal is to identify and feature selected content from open collections and aggregates like Wikimedia Commons, and share that work with the objective of highlighting open content produced by institutions – driving users back to collections through an accessible platform, and always linking back to source.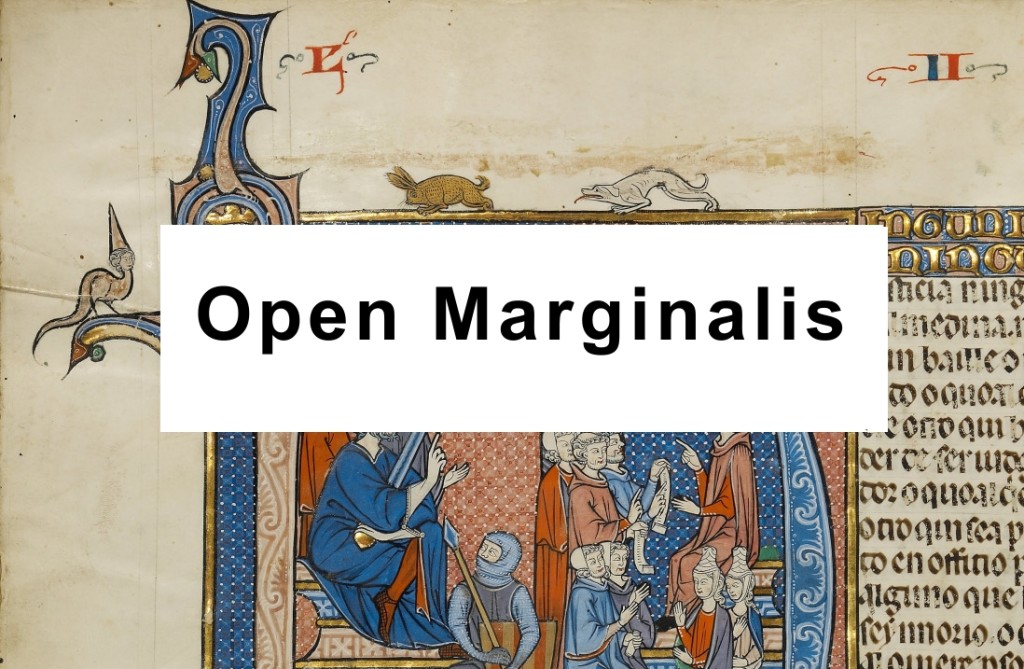 While earning my MLIS, I was interested in learning more about platforms for digital scholarship, and how those platforms can be used to boost collection access. In the final year of my MLIS, I had the opportunity to present Open Marginalis at the 2015 Simmons College Graduate Symposium as a work-in-progress under the title Open Marginalis: Medieval Marginalia in Open Access.  In the same year, I produced an overview of project goals, operations, and applied practices in OpenMarginalis: Tumblr as Platform for Digital Scholarship in Libraries, Archives, and Special Collections. In this piece, I wanted to both share applied practices for creating and growing with digital projects, and explore popular platforms like Tumblr as a place for digital scholarship.
For this project, I chose Tumblr as a platform that would support users at all levels of scholarship, while being able to reach the strong community of information institutions maintaining a presence on the platform. After years of learning more about Tumblr's functionality as a casual user, I wanted to see how a platform that empowers users to curate information could be used as a tool for digital collections. Continuing work on Open Marginalis, I want to create a space where users can start their search – from someone looking for a place to begin their experience with digital collections in a familiar interface, to a seasoned researcher looking for something new to include in a publication that they'd like to share under open use terms. As the growing audience of Open Marginalis quickly approaches 5000 followers through Tumblr, I want to learn more about how online audiences are using Open Marginalis, and what they'd like to see more of in the future.
As a growing digital project, being able to take shape in tandem with project goals has been key to where Open Marginalis has moved since it's start date. In the past six months, I made the decision to widen the scope of Open Marginalis from a project focusing more granularly marginalia shown in digitized medieval manuscripts, to digitized medieval manuscripts as a whole. While project goals have remained consistent, I've continued to experiment with different ways Open Marginalis can better improve access within its scope. For example, in late 2015, I put together a Browse by Institution page with the goal of enabling users to browse content by their source institution for a different discovery experience. More recently, I've started work on a Resources page for Open Marginalis with plans for future expansion – currently featuring a set of scope specific Wikimedia categories, from "Illuminated Manuscripts by Century" to "Illuminated Manuscripts by Style" as an accessible entry point for more open resources.
In future developments for Open Marginalis, I want to continue working on new approaches to supporting the visibility of digital collections, bolstering existing resources for growing audiences, and sharing applied practices from this digital project with more to come.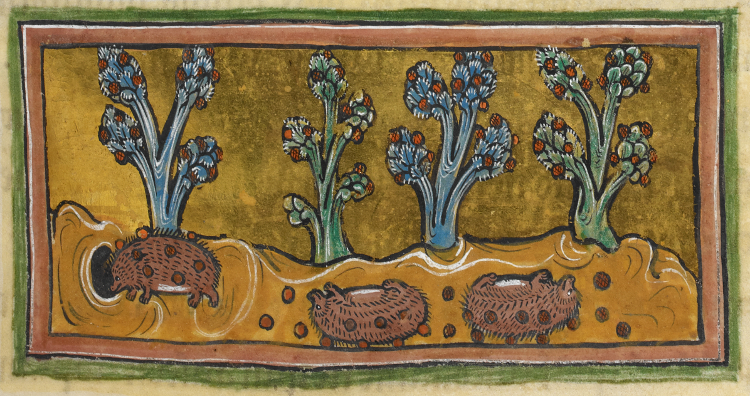 (Image: The British Library, Public Domain)